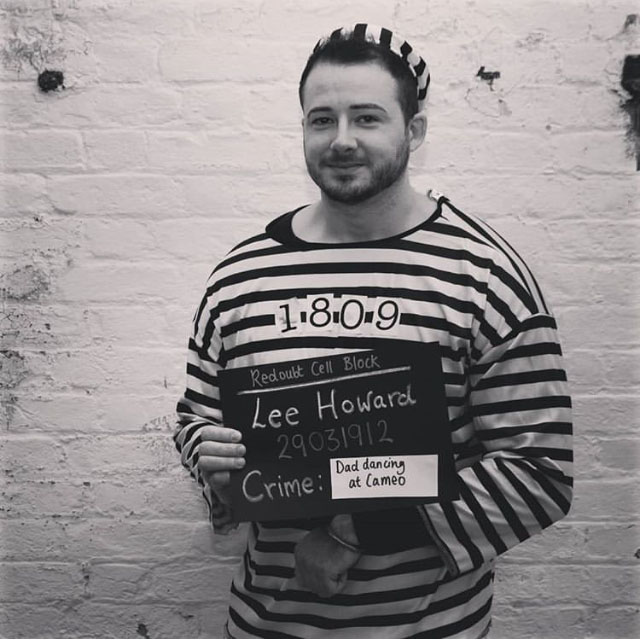 Our teams raise funds for services in the local community in a variety of ways and Payne & Sons Area Development Manager and Funeral Director Lee Howard quite possibly did so in one of the most unusual ways.
St Wilfrid's Hospice in Eastbourne held their first Jail and Bail fundraising event on Friday 29th March and along with 15 other well-known faces from the local community Lee spent time in a cell at the Redoubt Fortress. This imposing Georgian Fortress was built to defend against Napoleon and continued as a working fortress during both World Wars.
Each 'prisoner' was required to create a fictitious crime biography and Lee was found guilty of the crime of' Dad Dancing'. Lee was taken to the cells by local community police officers who kindly donated their time alongside a number of volunteers lending a hand on the day.
In order for Lee to be released he needed to post bail and raise as much money as he could for the hospice. Lee raised an impressive £677.50 which to date makes the total raised for the hospice in excess of £16,500.
On taking part in Jail and Bail, Lee said: 'Losing a loved one is one of the toughest times in someone's life, and it's a privilege to support bereaved families every day in my line of work. St Wilfrid's Hospice is an amazing place, and I wanted to help them to continue to support families not only through the grieving process, but through rehabilitation'
St Wilfrid's Hospice provides care for people with a life-limiting illness across 300 square miles for the people of Eastbourne, Seaford, Hailsham, Uckfield, Heathfield and everywhere in between.